Summary
Sound navigation systems are designed to help find locations (doorways of buildings, public transport doors, traffic lights) for blind people or people with limited vision. The main element of the system is the sound beacon placed on the object (for example, over main door of the building). The sound beacon gives a periodic buzzer that allows a person with limited vision (the system user) to locate object (for example, entrance to the building) on distances ~5..20m ("last meters solution").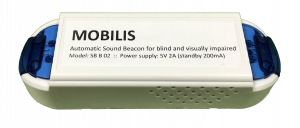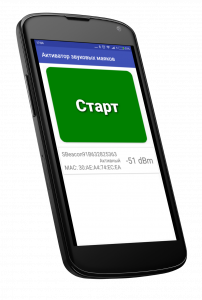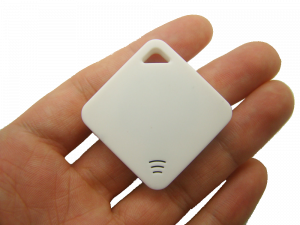 "Mobils SB"
"Mobils SB" is the next-generation system, the sound beacon is activated only when necessary (when the blind user is approaching). The system is designed to allow integration with "smart city" systems and supports deployment hundreds and thousands of beacons and serve thousands and tens of thousands of users. This fundamentally distinguishes the system from systems of the previous generation, with beacons operates constantly. This approach reduces the acoustic load on the urban environment and allows resolving the conflict of interests of users of the system and other people. Also an important advantage of the system is that its beacon is activated automatically with the help of a special activator, on the fact that the user is approaching. To activate the beacon, blind person uses smartphone with free "Mobilis Go" application installed or special pocket device (activator). Mobilis SB system uses new innovative (patent pending) method of seamless beacon activation.
Mobilis SB B.02 Sound Beacon for buildings
This model is designed to be mounted above building entrance.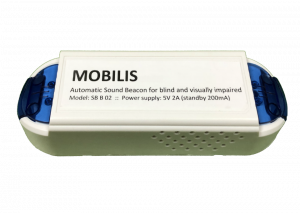 Power supply: 5В / 2A (200mA Standby)
Dimensions: 145х45х30 mm
Operating temperature: -40 С .. +60 С
Protection: IP33 (Rainfall protection)
Sound power: 2 W
Distance: 15-30m
Activation: Smartphone App or Pocket activator device
Compliance:
Ukrainian State Building Codes "Buildings and structures. Inclusiveness of buildings and structures." DBN В.2.2-40:2018 (including sections 3.24, 3.39, 3.48, 7.3.5, 8.1.1, 8.5.1, 8.5.2)
Extra-low voltage Appliance Class III «IEC 61140: Protection against electric shock — Common aspects for installation and equipment. International Electrotechnical Commission. 2001»
IP33 according to IEC 60529: Degrees of protection provided by enclosures (IP Code)
Convention on the Rights of Persons with Disabilities (adopted by the United Nations General Assembly on 13 December 2006)
Operation mode: Fully automatic Customization and settings: Special Smartphone app for beacon administration / customization (like different sound message to be played back to users). Additional integration:
Bluetooth Classic, Bluetooth LE, WiFi
External bi-directional 1-wire TTL interface
Mobilis Smartphone Application for automatic beacon activation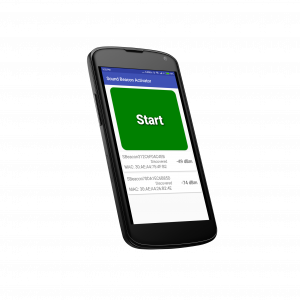 "Mobilis Go" is free mobile application that activates Mobilis beacons automatically when user approaching them.
Activates Mobilis beacons automatically
The program is designed for background operation, so smartphone can be used for any regular activity. Practically, user can activate it when going outdoor and deactivate when returning home.
The program produces voice announcements on the status of the system.
The interface is adapted for visually impaired users.
The program is optimized to minimize the use of smartphone resources and battery.
Mobilis Pocket beacon activator device for keyring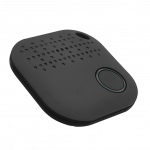 Small pocket activator device is designed for users who (for some reason) do not use smartphones. Pocket activator activates Mobilis beacons automatically when user approaching them.
Activates Mobilis beacons automatically
Work automatically and designed for continuous operation. Practically, user can activate it when going outdoor and deactivate when returning home.
Activator can be attached to keyring.
Power supply: 1 Coin size CR 2032 Lithium 3V battery
Battery life: 1 year (typical)
On / Off switch
Audio feedback for On / Off switch
Audio indication of battery level during On
Auto Off after 12 hours
Mobilis  SB : Other Sound beacon solutions
Sound beacon for public transportation. It announces route for people outside of the cabin and helps find entrance (usually – first door) by audible sound.
Sound beacon solution for traffic lights: it produces sound to help find the crosswalk and produces different sound/message on red/green light (can also provide sound feedback on remaining time).
Sound beacon solution for embedded application (OEM): provides integration input/output TTL signals and flexible firmware for "Smart City" applications.